XRF is a proven technique for material analysis in a broad range of industries and applications. From positive material identification, scrap metal sorting, measuring sulphur in oil, analysing coating thickness of metal finishing and metal alloys to quality control in the electronics and consumer goods industry.
Benefits of analysis by XRF include:
Minimal or no sample preparation
Non-destructive analysis
Na11 to U92 analysis, ppm to high % concentration range
No wet chemistry – no acids, no reagents
Analysis of solids, liquids, powders, films, granules etc.
Rapid analysis – results in minutes
Qualitative, semi-quantitative, to full quantitative analysis
For routine quality control analysis instrument can be 'used by anyone 'XRF is an easy to use, fast and accurate quality control method for a wide range of industries and applications.
Benchtop XRF Analyzers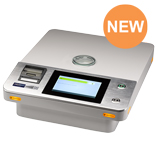 The LAB-X5000 is the ultimate elemental analysis tool for fast and easy quality control.

The software has been streamlined for simplicity, increasing testing throughput by reducing the time between collecting a sample and getting results. Our expert developers have optimised the analysis routines and hardware selection to get high quality analysis of petrochemicals, paper, polymers, minerals and general chemicals.

The large industrial-grade touch screen display makes it easy to see results including pass/fail judgments and SmartCheck messages that can provide instructions on how to handle a sample that is out of specification. To take full advantage of the flexibility of the LAB-X5000, advanced users can easily create calibrations for new applications.
Large industrial grade touch screen for improved readability and control.
Entirely new, streamlined user interface for easier navigation.
True one-touch measurement start for improved sample throughput.
High resolution detector for improved flexibility and shorter measurement time.
Connectivity to LiveConnect, a cloud-based service for data storage, access and sharing.
The LAB-X brand has been tried and trusted for 45 years and has been a success due to its outstanding ease of use and reliability.
Analysis can be performed on a wide range of sample types including solids, liquids, powders, pastes, films, etc., from ppm to high %, covering elements Na11 to U92 in the periodic table.
The XRF analyser X-Supreme8000 offers:
Minimal or no sample preparation
Unattended operation, and it can be used by non-laboratory operators
FocusSD technology for speed, accuracy and long-term reliability
Flexibility to perform qualitative, semi-quantitative and full quantitative analysis
X-Supreme8000 complies with ASTM D4294, ISO8754, ISO20847 and ISO13032 test methods.
The X-Strata920 is a compact, rugged and reliable quality control XRF benchtop system for simple, rapid, non-destructive coating thickness measurement and materials analysis. It performs excellent coating thickness analysis and characterisation of multi-layer analysis across a wide range of industrial markets, including electronics, metal finishing, alloys and precious metals assay.
The coating thickness measurement analyser X-Strata920 offers:
Non-destructive analysis: no sample preparation
Field-proven technology and reliability ensuring value for money year after year
Easy to use, with minimal user training required
Analysis in only three simple steps
Outstanding precision and accuracy of analysis
Culmination of over 20 years knowledge and experience in the coatings industry.
Coating thickness measurement with the powerful and easy to use XRF spectrometer guarantees quality and reduces costs.
Handheld XRF Analyzers
The X-MET8000 is the perfect PMI analyzer for Positive Materials Identification inspection.
The X-MET8000 XRF Analyzer, is ideal for scrap metal analysis, precious metals and jewellery analysis, and positive material identification (PMI) for inspection and manufacturing applications. X-MET8000 Series XRF Analyzers, include 3 models to suit all analysis needs and budgets.
Proven "point and shoot" simplicity
Intuitive, icon-driven user interface: minimal operator training required
Large 4.3" colour touchscreen for excellent results visibility, even in direct sunlight; easy operation with gloves on
IP54 rating (equivalent to NEMA 3), allowing the X-MET to be used in the toughest environments
Optional shield (Expert and Optimum models) to protect X-ray tube and detector and prevent costly repairs
Quick-swap analysis window: no tool required to change the analysis window when broken or dirty
Customisable results screen for fast decision making: display information that is important to you, e.g. alloy grade, elemental composition, pass/fail messages, elements listed in your chosen order
Compact and balanced design
Optional integrated camera for accurate measurement positioning
Extensive, customisable grade library
Powerful data management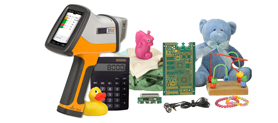 For manufacturers, retailers and importers, the X-MET8000CG improves the regulatory compliance management process by preventing costly rejects, reworks or recalls, identifying restricted or hazardous elements before they enter the manufacturing process or supply chain.
For these companies a focus on regulatory compliance means:
Increased operational transparency
The putting in place of reasonable testing programs (RTP)
Based on the proven technique of energy dispersive X-ray fluorescence (EDXRF), the X-MET7000 Series is engineered for high performance and reliability, guaranteeing fast, non-destructive materials analysis at the press of a trigger.
The XRF analyser X-MET7000 Series comes with many great features:
Up to 10-12 hours battery life: operate a full day on a single battery charge
Simple, powerful and secure data download with total reporting flexibility, including wifi capability
Wide range of applications: Precious metals and jewellery analysis, mineral confirmation and mine mapping, compliance and RoHS testing, soil analysis, etc.